Programs
---
You will need Adobe Acrobat Reader to use this form.


An application fee is NOT required
---
---
Comments on the Institute
---
For More Information:

Write or fax:
Donald Portnoy, Director,
School of Music
University of South Carolina
Columbia, SC 29208
Phone 803-777-7500
Fax 803-777-9774
E-mail:
Conductors Institute
The Original Conductors Institute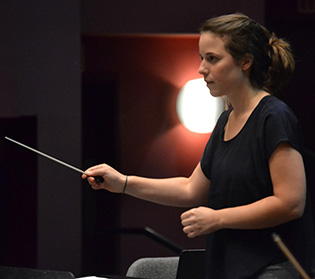 Dianna Fiore, Fellow
Photo: Michael Hazin. © 2013
For twenty-nine years, the world renowned Conductors Institute of South Carolina has been on the "must do" list for young aspiring and experienced conductors alike. In 2011, the Conductors Institute drew participants from 25 states, the District of Columbia, and numerous foreign countries. Students of the Conductors Institute receive a no-nonsense tutorial from conductors and composers who have vast experience in the commercial, academic, and professional worlds of music.
The guest conductors and composers are keenly aware of what it takes to succeed in a tough, competitive field, and they are willing to share their knowledge and expertise. One reason the Conductors Institute has been so successful for so many years is that it offers daily podium time to every individual in the program. The institute also focuses on the details of conducting and opportunities for conductors to enhance their skills and achieve a greater command with their orchestral forces.
Veteran conductors offer constructive criticism and encouragement. There are no mirrors, no recorded music. Each day, as your peers observe, you will have the opportunity to conduct professional musicians who know the scores intimately. At the end of each day, you will have a video of your performance to study and to assist you in preparing for another day on stage at the podium.
Choose from One of These Exciting Programs
On the University of South Carolina Campus
at the Koger Center for the Arts

"After several years of teaching at your Conductors Institute, I am still impressed with the quality and standards that you set. The Opportunities offered to the conductors, the exposure to conducting teachers and living composers, and access to a fine professional orchestra are immeasurable. Whether the participants expect to embark on a professional career in conducting or teaching or simply learn something about the art, they are receiving training rarely available.
"This Institue is unique for its opportunities, high standards, overall organization, and affordable fees."
Paul Vermel, music director/conductor.
Northwest Symphony Orchestra and the North Suburban Orchestra, Ill.